Run any C program you wish and use "pmap" to see the virtualmemory addresses while it is running. Include the "pmap" output inyour report. Then run the same program again and report theaddresses again, using "pmap". Compare the addresses for the twoinstances as follows:
a. Which memory segments have the same starting addresses?
b. Which memory segments have different starting addresses?
c. Which memory segments have the same sizes?
The program I plan to run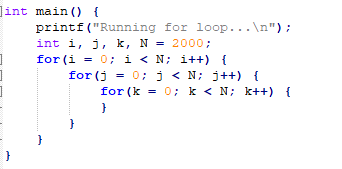 int maino printf("Running for loop…In") int i, j, k, N= 2000; for (i=0; iShow transcribed image text
The post Run C Program Wish Use Pmap See Virtual Memory Addresses Running Include Pmap Output Repor Q34547846 appeared first on Nurses Den.